When: 26.11–31.12.2021
Organised by: Centre of Contemporary Art "Znaki Czasu" in Toruń
Main Partner: Arka Gallery in Vilnus
Project Curator: Krzysztof Stanisławski
Curator in Lithuania: Arvydas Žalpys
Coordinators: Izabella Stanisławska, Paulina Kuhn
Coordinators in Lithuania: Airida Rekštytė, Povilas Ramanauskas
Film Coordinators: Radosław Osiński, Piotr Waśniewski
Production: Wojciech Rumiński, Mikołaj Makiłła
.
The idea behind the project is to familiarise the public with the figure of Władysław Starewicz, the creator of the first puppet animations in the history of filmmaking and to promote his achievement across the globe, in cooperation with our Lithuanian partners. Starewicz's biography reflects the shared experience of the two countries, the complex fate that united them.
Born in Moscow in 1882 to Aleksander Starewicz, who had fought in the January Insurrection, and Antonina Legęcka, Starewicz was sent after his mother's death to live with his grandparents in Kaunas, where he spent his childhood and youth. In 1912, the family moved to Moscow; in 1919 Starewicz left for Paris to escape Bolshevism and remained there until his death in Fontenay-sous-Bois in 1965.
Encyclopaedias describe him as a Russian filmmaker of Polish descent who worked in France. Various forms of his name are found in relevant literature, e.g. Ladislaw Starewicz and Vladislavas Starevicius. In Poland, he will always be remembered as Władysław Starewicz as the filmmaker would stress his Polish origins till the end of his life.
Starewicz's creative output contains 45 works. His first puppet animation The Battle of the Stag Beetles was created in 1910 at the City Museum in Kaunas where he was responsible for providing film documentation. Starewicz purchased a camera to do that. That was when The Beautiful Leukanida was made, marking the beginning of his career. From then on, he made puppet films that were distributed all over the world, e.g. to the United States and China. Considered a classic of animation and nicknamed "European Disney," he is hardly known in Poland and Lithuania. Regrettably so as we have not had that many pioneering filmmakers, and Starewicz's work inspired the greatest, including Tim Burton, the Quay Brothers and Wes Anderson. Starewicz was a universal artist and it is for this reason that his oeuvre should be popularised not only in Poland but also abroad.
For this project the Centre of Contemporary Art Znaki Czasu used materials from Polish and French collections that hold Starewicz's photographs for travel magazines published in the early 20th century, original sketches of set designs and puppet costumes, a choice of richly illustrated press reviews and interviews, and Starewicz's animations.
Short relation from the exhibition in TVP Wilno (in Polish):
https://wilno.tvp.pl/57139737/propozycje-kulturalne-na-najblizszy-weekend
See also: https://www.arkagalerija.lt/visos/parodos/vladislovas-starevicius-animacijos-pasaulio-pionierius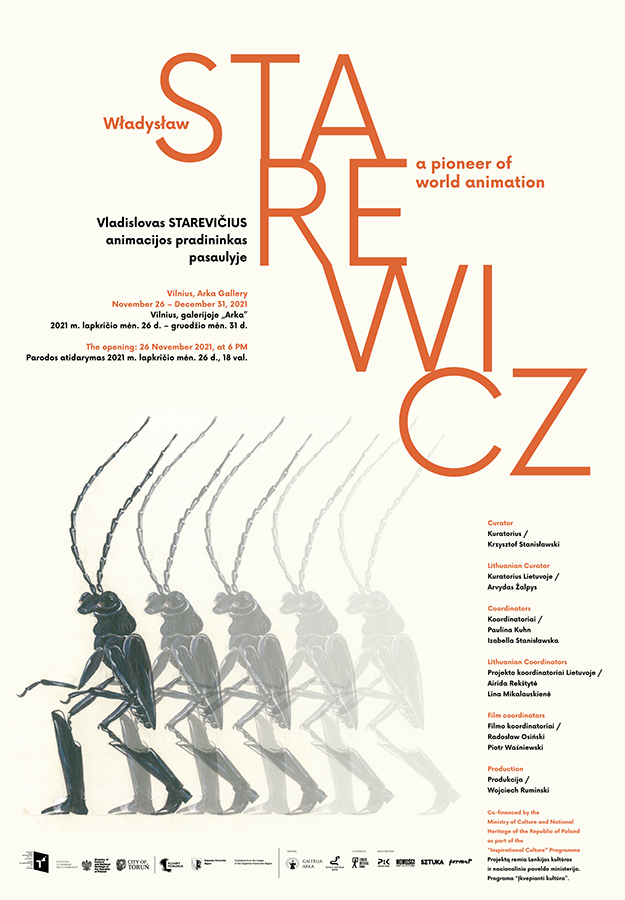 Co-financed by the Minister of Culture, National Heritage and Sport as part of the Inspirational Culture Programme.
Tags: exhibition, vilnus