Natalia LL, Existences I (Egzystencje I), 1962/2017
analogue photography, black and white
CONCEPTUAL ART
The series Existences – black and white analogue photographs – comes from the earliest period of Natalia LL's work. It consists of portraits of people close to the artist (her family and friends) placed in the urban landscape of the distant corners of Bielsko-Biała, distinctive through their dark mood. The main motive of the artist's interests in this period was the philosophy of existential trends, reading Sartre, Kierkegaard, Camus and Dostoevsky, as well as the poetics of the Italian cinema.
In this period she also noticed that photography as a medium offerred completely different possibilities for presenting artistic phenomena and ideas than painting, graphics or sculpture. These early activities led Natalia LL to develop conceptual art, of which she was one of Poland's most recognizable forerunners.
SINGULARITY
The work Existences I shows the artist's sister against the backdrop of architecture. This photograph won Natalia Lach (she adopted her pseudonym Natalia LL later on) the first prize at the National Festival of Student Photography in Toruń.
The artist wrote about the series: "It seemed to me that a photo allows you to change the ordinary, banal reality into a unique and mysterious event, a phenomenon. My photographic actions were definitely attempts to find singularity, extraordinariness in the surrounding world. It was fascinating to me that it would seem that a credible photograph would show this singularity in a more complete and direct way than, for example, graphics and painting. I would call the photography I did back then 'existentialist'." (from: www.nataliall.com).
Mateusz Kozieradzki
ABOUT THE ARTIST
Natalia LL (Natalia Lach-Lachowicz) was born in 1937 in Żywiec. She studied at the State College of Fine Arts in Wrocław and in 1963 received its diploma in the studio of Professor Stanisław Dawski. She lives in Wrocław.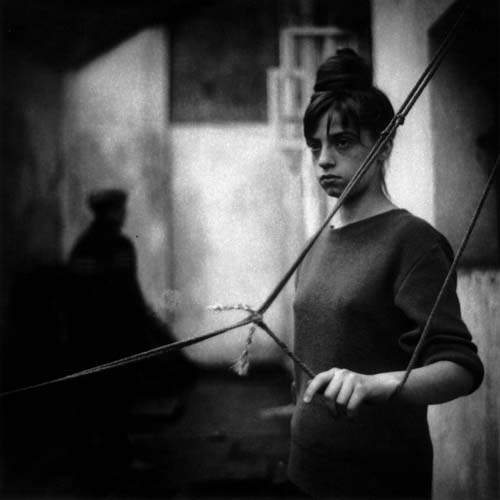 Purchased from own resources (2017)
Tags: blog, collection