EXHIBITION FROM THE SERIES INSCRIPTION PROJECT / STEFAN KORNACKI
When: 27.01–26.03.2017
Opening night: 27th January 2017, 7 PM
The Go Home is an exhibition consisting of five inscriptions that form the multimedia installation. This is a summary of the first nine years of Stefan Kornacki's activities within the Inscription Project. It is a series of projects centered around the inscriptions and neons dismounted from roofs. While shifting around Europe, they created new fields of meaning – being a major part of many installations, happenings and performances. With the input of APATOR and ELANA – letters rescued from the non-existent factories, there was established the Ustawka [Hooligans pre-arranged fight] multimedia installation, which is a story about the conflict of local sport clubs, once associated with these factories. The dismounting of the Warsaw UNIWERSAM GROCHÓW neon has become a spectacle, just as in the case of similar neon in Toruń. The forgotten letters of the famous VICTORIA hotel have been exhibited in the surrounding of city ruins within the exhibition Things To Come in Lisbon. Their appearance in Portugal became a sensation for the residents of the capital of Poland who finding out from the media about their existence, were surprised by the fact that four years after the dismounting they have turned up so far away. Typically, these objects are destined for scrapping. The audiovisual installation will be a conversation, sometimes intense quarrel between inscriptions narrating, from their perspective, about the struggles of the artist during the implementation of projects in which they participated.
About artist:
Stefan Kornacki (1983) – the multimedia artist. A graphic art graduate of the Faculty of Fine Arts at Nicolaus Copernicus University in Toruń. A performer, a poet and the founder of the SER CHARLES music group [Organek, Staszewski], he co-creates the scientific-artistic project B-61 Institute, where he performed together with artists such as Tomasz Stańko, Mariusz Lubomski, L.U.C., Domowe Melodie, and Maja Kleszcz and many others. He is the curator and the creator of the MAMA gallery. He is currently working on such projects as the Inscription (installations using dismounted, realizations i.a. in Kiev, Lisbon, Tallinn) the Local News and the Szerokości. The "Talenty Trójki 2012" laureate – awarded by the Polish Radio in the "visual arts" category, the Ministry of Culture and National Heritage's scholar in 2016.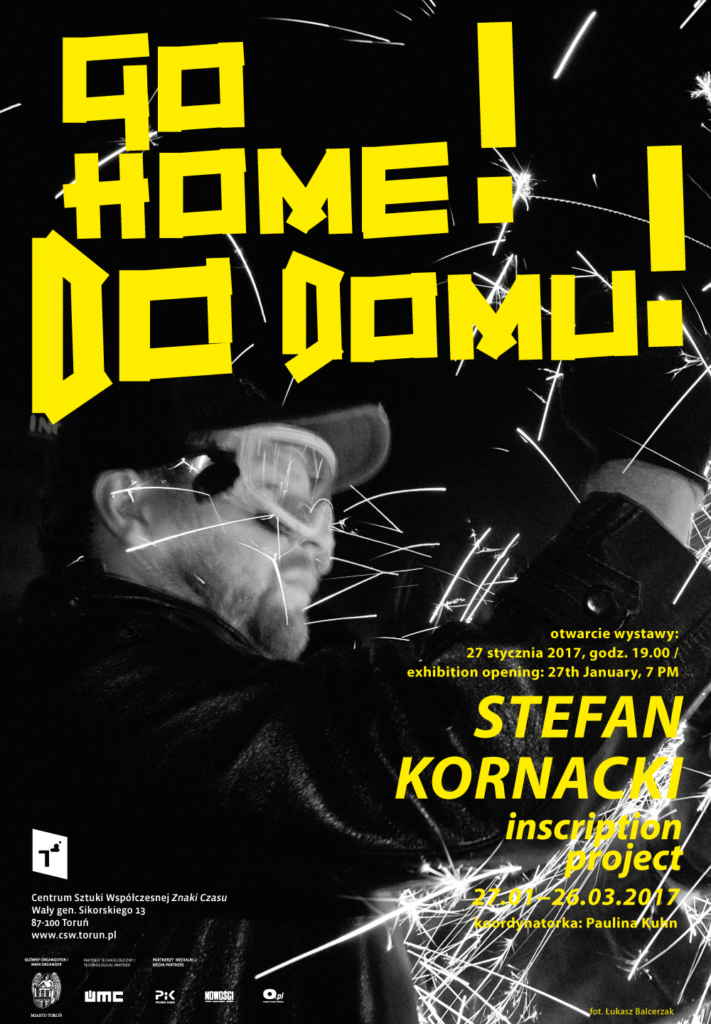 Tags: exhibition